Payday Loan Consolidation | Debt Relief & Help With Too Many PDL
Payday loans are short-term loans that are normally paid back within a few weeks. The tenure of a payday loan is normally 30 days or less. Payday loans normally go up to amounts of around $1000.
The repayment period of payday loans is normally done via a single payment by month-end. The lender usually takes a post-dated check from the payday loan borrowers. Payday loans are often given without a credit check which makes them easy despite burdening borrowers with high-interest rates.
Payday lenders know you need a loan and will often give you a new loan further complicating your ability to pay back the initial payday loan.
The amount on the check reflects the principal and the loan fee. The lender may also ask the bank of the borrower to provide it with the right to deduct this check amount if the borrower does not make the repayment on time.
In order to get a payday loan, the borrower needs a working checking account and a source of income.
What is payday loan consolidation?
Payday loan consolidation company can help reduce a payday loan borrower's monthly installments, and in some cases, the total amount owed. Consolidation works by bringing together multiple payday loans of a borrower and combining them into one loan.
Loan consolidation simplifies the life of the borrower as he/she has to only make one monthly payment to the loan consolidation company. That company then pays out the relevant installments to each individual payday loan company from whom the borrower had originally borrowed.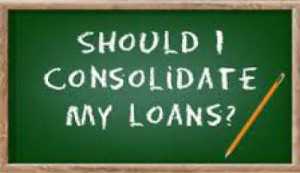 How does payday loan consolidation work?
Payday loan debt consolidation merges all your loans payday into one monthly payment. Afterward, money is paid by the debtor directly to the consolidation company who subsequently pays the lenders you owe money to.
The main advantage of payday loan consolidation is that the whole sum that you owe including your monthly payments is drastically reduced. This helps you by getting out of payday by managing your debt cycle and payday loan trap.
Will it affect my credit score?
Loan consolidation will not have any negative effect on borrowers' credit scores. Consolidation companies do not share information with credit bureaus. Hence, the payday loan debt management program of the borrower will not show up on his/her credit report.
Payday loan consolidation can, in fact, improve your credit score in the long run if you make your repayment terms on time and pay off your loan. So, there is a potential upside to consolidating personal loans and getting out of the payday loan cycle.
Who should I make my loan repayments to?
When you consolidate your payday loans into a single loan, you have to make your payments to the consolidation company that you are working with. That company will then make individual payments to your original payday loan lenders.

What if I am unable to keep up with the monthly payments?
If you are unable to make your payments via the program, then you have the option of cancelling the program and exiting it at any time.
Please note that if you cancel the consolidation program, then you will be responsible to make individual repayments to each of your payday lenders.
Can debt relief help eliminate wage garnishment?
Yes, payday loan relief can stop wage garnishment because the consolidation company will negotiate a settlement with the lender. Such a debt settlement will not involve any wage garnishment.
What are the fees?
GreendayOnline has a simple and transparent fee structure. Our fees are aligned with the results that we can bring in for you:
We do not collect fees until we resolve your debt issues
There is no advance fee
Fees depend on the state in which you reside
Fees range between 8% to 20% of the enrolled debt amount
Will the annoying phone calls from my lenders end after I enroll?
As soon as you enroll in our payday loan relief  program we send out cease and desist letters to all of your lenders.
We inform the lenders that from now on, we are going to be the primary contact for the outstanding payday debt. We prioritize the stoppage of harassing phone calls and work on pushing lender away from your bank account.
This is the beginning of the end regarding your debt problems. Your financial situation should improve fast with our financial services.
debt consolidation loans
How much will my debt go down?
If you enroll in our program, then we try to negotiate the best possible rates and debt amount for you. The final quantum of reduction in interest rates and outstanding payday loan amounts depends on a case-to-case basis. Dave Ramsey has a different opinion but our many customers have had beneficial outcomes.
To get some idea of what we are capable of, please have a look at our customer satisfaction page and you will learn how we have helped customers save thousands of dollars through our services.
What is the typical duration?
The duration of the  program depends on the amount of debt that you have to pay and the amount which you can repay each month. On average, our consolidation programs can run for any duration between 6 months and 18 months. So, depending on your particular situation, you can look forward to becoming debt-free in a few months.
Will you pay my lenders directly?
Once you begin the payday loan relief program, you only have to pay us the monthly payments. We will then repay each of your lenders as per the terms of the loan help program which we have agreed with you.
Is there a minimum amount to enroll?
We need your debt amount to be at least $600 in order for you to be eligible to work with us.
After enrolling in your consolidation program, how much will my monthly payment go down by?
While the reduction in the monthly payment will vary on a case-to-case basis, you can be almost certain that your monthly payment will go down quite significantly. You could very well be looking at the possibility of paying something like 10% to 30% of your original monthly payment amount. So, we are talking a fraction of what you were paying earlier.
How long does it take to begin?
GreendayOnline can begin the consolidation process for you right away. In fact, it can be done today itself! Simply call us or fill out a request form online and we will be with you right away.
Will there be any way for me to monitor?
Yes, you can call GreendayOnline to know the current status of your account. We will also be sending you monthly statements which will give you the loan repayment details.
Do I need to close my checking account?
We do not require you to close your checking account. Our consolidation program does not have such requirements. You can close your account if you want to. It is completely your call.
How do I start with your debt relief program?
Simply head over to our website and fill out a request form. It only takes a few minutes and we will ask you for some basic information. Once you submit the information, our experts will evaluate the data and then get in touch with you to work out a debt relief payment plan. You can also give us a call and ask for assistance.
Will the company make payments to individual lenders on time?
When you research for consolidation companies to work with, make sure that you find companies that will pass on your payments to individual lenders immediately.
Some companies tend to hold on to your payment money before ultimately making the payments to individual lenders. Make sure that you know what the consolidation company is committing to with regard to making payments to your original payday lenders.
Will lenders lower the loan amount or the interest rate?
It is very much possible to negotiate with your payday lenders and try to get them to give you some relief through the reduction of the outstanding amount owed or through a lower interest rate on your existing payday loans.
The payday loan debt consolidation company will reach out to your payday loan lenders and try to work out some solution. The quantum of relief will depend on the agreement that the payday loan consolidation program reaches with your lenders. You should also be aware of bad companies that do not have your best interest at heart.
Is debt consolidation different from a debt consolidation loan?
Debt consolidation is a process in which the borrower combines multiple personal loans into a single loan. By combining various payday loans into one personal loan, the borrower simplifies his/her life by making one monthly payment instead of multiple payments. By combining the payday loans, the borrower can also reduce the interest cost.
A debt consolidation loan involves the conversion of unsecured debt into secured debt. Secured debt means that the borrower has to provide some form of collateral. The collateral could be a house or some personal asset.
Hence, opting for a debt consolidation plan is actually more severe in the event that the borrower cannot pay back the loan. At stake are the borrower's house (or personal asset which has been pledged) and his/her family's well-being.
In the fear of them payday lenders taking over the borrower's assets, some borrowers tend to max out their credit card debt in order to repay the payday loan. Such borrowers end up paying extremely high-interest costs and even risk bankruptcy.

Tags