Suppose you're considering buying a used or brand-new vehicle. In that case, the average rates for auto loans according to average credit score might give you an idea of the interest rate you can anticipate from a loan provider. An auto loan calculator can help you estimate your potential loan payments.
Credit score ranges are crucial in securing favorable financing options for your vehicle purchase. They are determined by various factors, including the size of your earnings, the amount of debt you carry, and your credit history. Auto loan rates are given through an annual percentage rate (APR).
However, your credit score is likely the main factor determining the rate you'll be given. The higher the score you get on your credit report, the lower the interest rate on a car loan is likely because auto lenders believe you're less likely to default on the loan. Online lenders also provide vehicle loans, making comparing and choosing the best option easier.
According to Experian's State of the Automotive Finance Market report for the second quarter of 2021, the average cost of auto loans will be 4.09 percent for new automobiles and 8.66 percent for used cars. If you have a less-than-ideal credit score, a bad credit auto loan might be an option, but it typically comes with higher interest rates.
While evaluating potential loan providers, be aware that differences in interest rates can result in thousands of dollars being added to the overall cost of your vehicle. Shopping around for the best rates and submitting multiple loan applications can help ensure you secure the most affordable financing for your car purchase. Making consistent monthly car payments can also improve your credit history, securing better rates in the future.
If your credit score is 780, you have a great chance of receiving an interest rate of less than 3% on a new automobile. On brand-new automobiles, if your credit score is less than 601, you'll be eligible for a rate of more than 10%.
Here are some statistics about average car loan interest rates:
| Credit Score | Average Interest Rate |
| --- | --- |
| Excellent (781-850) | 3.84% |
| Good (661-780) | 4.9% |
| Fair (601-660) | 7.25% |
| Poor (501-600) | 10.11% |
| Very Poor (300-500) | 12.93% |
Statistics about average car loan interest rates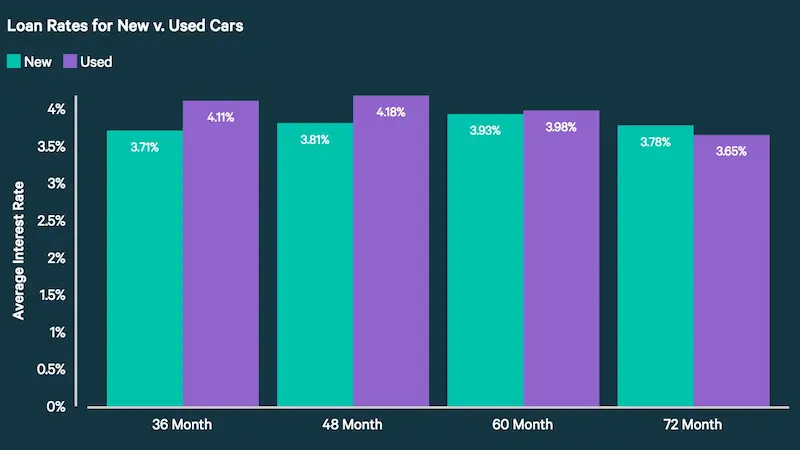 Why choose us?
Our interest rates are manageable.
We offer a variety of auto loan products to fit different credit profiles
We approve applicants with poor credit scores. We don't care about how bad your credit scores are
You get instant approval, unlike banks and credit unions.
We provide options for auto loans, including a 36-month new car loan and a 36-month used car loan.
Applicants can qualify for an affordable rate for auto loans.
Auto financing can improve your Payment history and credit score by applying for the best auto loan and repaying on time.
How can you utilize the average car loan APRs and average car loan rates typical for auto loans?
By comparing auto loan offers from various auto loan providers, you can easily find the best Credit Score New Car Loan tailored to your needs. Take advantage of auto loan online platforms to compare rates and make an informed decision.
Once you've established your credit score and the typical auto loan interest rate for a car loan that you may be eligible for, you can use this auto loan calculator tool to calculate the monthly auto loan payment or installments for various loan terms.
Auto loan customers should know that it's only possible to know the exact cost once you've requested a new car loan to purchase an automobile and have been offered by a loan provider. However, you'll be aware of the auto rate price. There is a higher cost for loans with longer terms than shorter ones, such as 60-month new auto loans and APR 72-month new car loans, compared to 48-month new car loans and 48-month used car loans. To ensure that you're getting the best deal, compare APRs on auto loans and auto loan borrowing rates from various lenders and then compare the lowest auto loan rates and auto loan rate offers. Remember that the average new-car loan rate will vary depending on your credit score and other factors. Finally, to get an accurate quote, complete your auto loan application with the lender of your choice.
Suppose you've previously borrowed money for an automobile, and the rate exceeds the average 72-month auto loan rate listed on your credit report. In that case, you can refinance the auto loan debt to get lower car loan rates and a lower loan amount of payments. It is possible to refinance the loan with several auto loan companies to determine the rates available. This way, you can compare different auto loan options and choose the best one based on your experience. The auto loan market has a variety of lenders, and using an auto loan tool can help analyze the averages for auto loan rates and make it easier to send applications to auto lenders.
Frequently Asked Questions
What is the average car loan interest rate for individuals with an excellent credit score?
For those with excellent credit above 750, average new car loan rates are around 3% APR and 4% for used cars currently. But rates vary based on specific factors
How does having a poor credit score affect the average interest rate on a car loan?
Those with poor credit below 620 can expect much higher average rates of 10-14% for new cars and 12-18% for used cars from most mainstream lenders.
Are there any specific credit score ranges that typically receive the lowest car loan interest rates?
In general, scores above 750 receive the best rates on car loans, while those under 600 pay significantly higher rates. The very best terms go to scores over 800.
Can you provide tips on how to improve your credit score to secure a lower car loan interest rate?
Tips include paying bills on time, lowering credit card balances, avoiding new credit applications, resolving errors on your report, and paying down debt.
What is the current national average car loan interest rate, and how does it vary by credit score?
The current overall average is around 4.5% for new cars and 9% for used. Rates typically range from 2-4% for excellent credit and 10-20% for poor credit.